Julie A. Bazan
Joined 2015
Julie serves as Chief Operating Officer at Cobblestone. She received a Master of Science from St. John Fisher College, a Master of Arts from Nazareth College, and a Bachelor of Arts from William Smith College. Prior to joining Cobblestone Capital Advisors, Julie served as Assistant Vice President of Operations & Administration at Manning & Napier Advisors in Fairport, NY. Julie is dedicated to supporting the community and does so through her board and volunteer work:  she serves as Board Member for Lollypop Farm, Vice Chair of the Women's Foundation of Genesee Valley, Vice President of the Rochester Women's Council and Vice President of the William Smith Alumnae Association. Julie is a former Board Chair of the Western Region Easter Seals and Board Member of NY State Easter Seals.  She also serves as an Adjunct Professor at Nazareth College.  Julie and her husband Michael reside in Geneva.
Tara M. Henry, RP®
Joined 2007
Tara serves as Client Operations Manager for Cobblestone. In addition to managing the Client Service Team, Tara also performs operational duties including performance reporting and specialized client reporting. She received a B.S. degree magna cum laude in Education from Bridgewater State University with a double major in Elementary Education & Communication Studies. Tara has earned the Registered ParaPlannersm designation and serves on the Board of Directors for the Rochester Chapter of the Executive Women's Golf Association. Tara, her husband James, and their daughter reside in Fairport.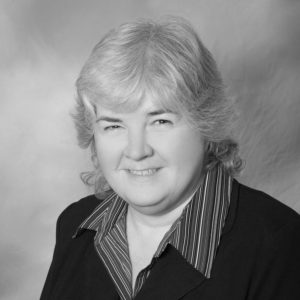 Margaret A. Magoffin
Joined 1987
As Senior Operations Associate, Margaret is primarily responsible for billing and account reconciliation at Cobblestone Capital Advisors. She attended Longwood University in Farmville, VA. Prior to joining Cobblestone, Margaret worked in the Institutional Asset Management Group at JPMorgan Chase. In her spare time, Margaret serves as President of the Upstate NY Boxer Club, and as a member of the Board of Directors for the Dog Obedience Training Club of Rochester, NY (DOTCORNY). Margaret and her husband Joe reside in Penfield.
Vinh T. Nguyen,
Joined 2016
Vinh serves as Senior IT Business Analyst. Prior to joining Cobblestone, Vinh supervised Production Support & Quality Assurance teams at Manning & Napier Advisors in Fairport, NY. He received a B.A. degree in Information Science and Policy from the University at Albany. In his spare time, Vinh works with Literacy Volunteers of Rochester, specifically with digital literacy.  He is also a participant in the Greater Rochester Chamber of Commerce's CLIMB Program for young professionals.  Vinh resides in Fairport with his wife, Emily.
Pauline B. Rutberg, CPA
Joined 2012
Pauline serves as Controller at Cobblestone. She is a Certified Public Accountant and received a BBA degree in Accounting from The College of William and Mary. Prior to joining Cobblestone, Pauline served as Finance Manager for the American Australian Association, Controller for Small World Media and iXL-New York, and as an Audit Manager at Price Waterhouse. She currently serves on several committees for the Jewish Federation of Greater Rochester and is a Board Member of NCJW-Greater Rochester Section and Friends of Sutherland Field Hockey.  Pauline, her husband David, and their two children reside in Pittsford.